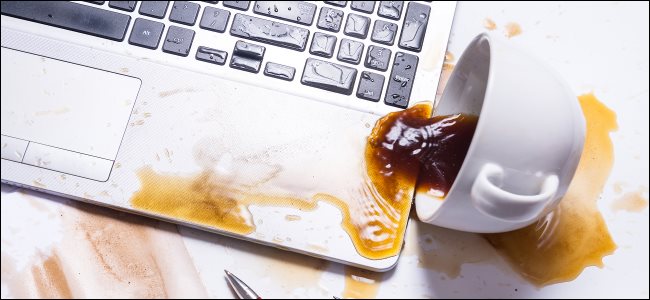 Elektronika stała się towarzyszem naszego codziennego życia, jest przez to narażona na wiele niespodziewanych sytuacji.
Zalania to najczęściej występująca przyczyna uszkodzeń spowodowanych przez użytkowników.
Zalałeś laptopa?
Nie marnuj czasu!
Jeśli laptop po zalaniu zostanie odpowiednio zabezpieczony, naprawa może okazać się prostsza nią sądzisz.
Naprawa laptopów po zalaniu wymaga szybkiej i zdecydowanej reakcji. Poniżej przedstawimy jak postępować z zalanym sprzętem i nie tyczy się to tylko laptopów, ale wszelakiego sprzętu elektronicznego tj: komputery stacjonarne, tablety, smartfony, telefony komórkowe, konsole playstation oraz xbox, po prostu wszystkiego przez co przepływa prąd elektryczny.
Wskazówki te pozwolą państwu zaoszczędzić czas i pieniądze podczas wizyty w serwisie.
Jak postępować z zalanym laptopem?
Wyłącz laptopa,
odłącz zasilacz, oraz jeśli to możliwe wyjmij baterię,
jeśli bateria jest wbudowana, a czujesz się na siłach rozkręć sprzęt i odłącz baterię, jeśli nie jesteś pewny czy dasz radę, zdejmij klapkę maskującą pamięć RAM, to zazwyczaj odcina zasilanie z baterii w laptopach z wbudowaną baterią,
udaj się do serwisu laptopów i przedstaw sytuację – pamiętaj "zalańce" mają pierwszeństwo,
pod żadnym pozorem nie próbuj uruchamiać urządzenia.
Co nie przyniesie efektu
Pozostawienie do wyschnięcia niewiele zmieni, może jedynie pogorszyć sprawę,
stawianie na ryż i inne specyfiki o właściwościach higroskopijnych na niewiele się zda,
czym dłuższy czas od zalania do fachowego zabezpieczenia sprzętu, tym mniejsza szansa powodzenia naprawy.
Czego nie robić
Nie używaj suszarki do włosów lub innego ciepłego urządzenia, ponieważ może to spowodować uszkodzenie podzespołów.
Nie używaj chemikaliów, takich aceton, do czyszczenia laptopa, ponieważ mogą one uszkodzić laminat płyty i plastikowe części.
Nie próbuj uruchamiać laptopa, dopóki nie zostanie on dokładnie osuszony i naprawiony przez specjalistę.